We work with the following brokerage firms:
Outside the US and Canada

When you trade Forex with ActivTrades, there are no hidden commissions or fees. Manage your exposure, trade various sizes (as low as micro lots) and maximise your trading flexibility with leverage up to 1:400. You can trade Forex 24h a day, and ActivTrades is happy to support you from Sunday 11 p.m. to Friday 11 p.m. CET.
CLICK HERE to open a demo account
CLICK HERE to fund an account
---
In Australia

FP Markets is an Australian company providing Contracts for Difference (CFDs) and Margin FX contracts (Forex for foreign exchange). Since commencing trading in 2005, It has become one of the major players in the CFD market. They offer CFDs under what is referred to as a Direct Markets Access (DMA) CFD pricing model. . FP Markets is one of the most awarded companies in the industry, winning awards from Smart Investor, Investment Trends, Money Magazine, and The Bull and a 5 star rating from CANSTAR CANNEX.
The DMA CFD pricing model provides fair and transparent prices. They fully hedge each and every exposure they have to clients with respect to CFD trading over any exchange traded instrument. It's in their best interest for you to be as profitable as possible. They offer education ranging from webinars, seminars and client support. And that support is offered 24 hours a day: FP Markets offers access to CFDs based on domestic and international underlying markets such as equities, indices, futures and commodities and also in Forex.
CLICK HERE to open a demo account
CLICK HERE to fund an account
---
In the US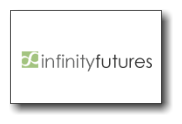 Infinity Futures, online trading services for the past 20 years. Infinity is headquartered in Chicago and offers currency trading access to traders.
CLICK HERE for details
---
In Asia and Australia
Whether it's their proprietary trading platform ThinkTrader, partnership with Equinix that provides speed and reliability, or the advanced client portal, they offer the very best technology to all of their clients.
An in-depth course for traders of all levels, downloadable trading guides, a wealth of educational video material – these are just some useful materials you can find in their Learn to trade section, all written and produced by market experts.
Their award-winning customer service department will be there for you 24 hours a day during the trading week and will assist you with any queries you have about funding, technical support, trading conditions and more.
CLICK HERE to open a demo account or to fund an account